Salad with beetroot spirals
Stress? We don't know any! Because long before the guests arrive, the beetroot is cut into spirals.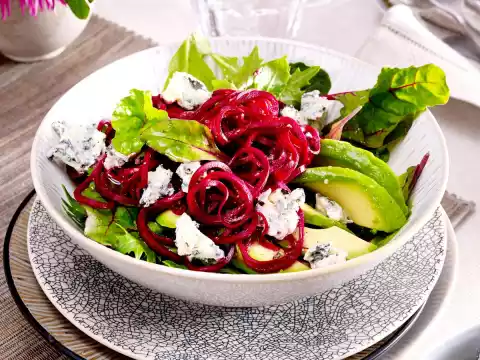 Ingredients
125 g Baby salad mix

250 g Red prayers

7-10 Tbsp Salt

7-10 Tbsp Sugar

7-10 Tbsp Pepper

6 TABLESPOONS Cider vinegar

1 TABLESPOON liquid honey

6 TABLESPOONS Oil

1 Avocado

125 g Blue cheese
Directions
1

Select the salad, wash and drain well. Clean and peel the beetroot (wear disposable gloves - they stain strongly!). Cut into "spaghetti" with a spiral cutter. Season with some salt and sugar and put aside.

2

For the vinaigrette, whisk vinegar, honey, salt and pepper. Fold in the oil.

3

Halve the avocado and remove the core. Remove the flesh from the skin and cut into slices. Arrange salad with avocado and beetroot spirals. Sprinkle with vinaigrette and crumble the cheese over it. Serve with baguette.
Nutrition Facts