Trio of broccolini, chicory and pear
What's special about this salad? The winter ingredients in combination with creamy almond dressing! And with just 210 calories per serving, there's a generous helping of's.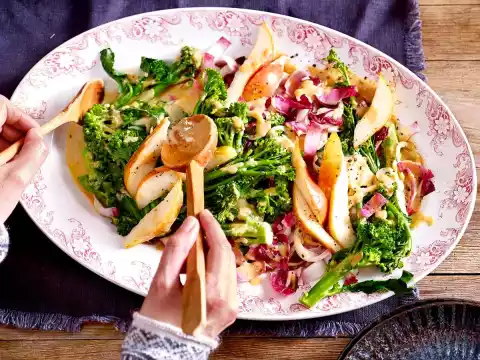 Ingredients
600 g Broccolini (Alternative Broccoli)

7-10 Tbsp salt, pepper

1 Chicory (e.g. red)

2 Onions

2 ripe pears

6-8 TABLESPOONS Lemon juice

3 TABLESPOONS Almond paste

1 TABLESPOON Agave syrup

4 TABLESPOONS Oil
Directions
1

Wash and clean the broccolini. Cook in boiling salted water for about 2 minutes. Drain, rinse with cold water and drain well. No broccolini around? Broccoli is also possible. Then cook the florets for about 4 minutes.

2

Clean, wash and cut the chicory into strips. Peel onions and cut into thin rings. Wash, quarter and core the pears. Cut the flesh into slices and sprinkle with 2 tbsp. lemon juice.

3

For the dressing, mix almond paste, agave syrup, 4-6 tablespoons lemon juice, salt and pepper. Fold in the oil. If the dressing is too thick, stir in some cold water. Arrange all salad ingredients on a plate and sprinkle with the dressing.
Nutrition Facts