Sliced Thai mix with mango kick
Immune boosters like coriander, garlic and chillies in the dressing join the like-minded mango, celery, spring onion and radicchio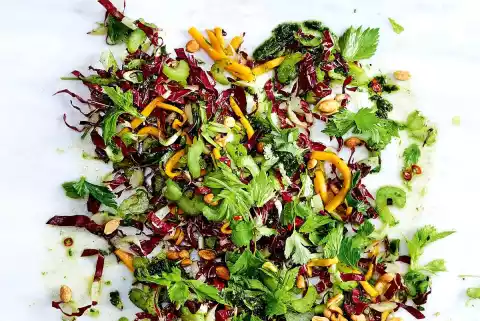 Ingredients
4-6 Stem/s Parsley and coriander

1 red onion

2 Garlic cloves

1 red chilli pepper

2 TABLESPOONS Lime juice

6 TABLESPOONS Olive oil

7-10 Tbsp salt, pepper

4 Spring onions

2 Radicchio

1 Mango

6 Rod/s Celery (with green)

50 g salted roasted peanuts
Directions
1

For the coriander chimichurri, wash the parsley and coriander, shake dry and chop the leaves very finely, possibly crushing them finely. Peel the onion and garlic and dice them finely. Wash and clean the chillies and cut into fine rings. Mix prepared ingredients with lime juice and oil well (or shake in a screw glass), season with salt and pepper.

2

For the salad, clean and wash spring onions and cut into fine rings. Clean, wash and spin dry the radicchio and cut into fine strips. Peel the mango. Cut the flesh first in thin slices from the stone, then into fine strips. Clean and wash the celery and put celery green aside. Cut the celery into fine slices.

3

Mix salad ingredients with peanuts. Mix in dressing for serving.
Nutrition Facts