Curly-headed chopped salad "vive la France"
All the goodness of broccoli, fennel, tangerine and pomegranate is optimally stored in the fibre-rich frisée salad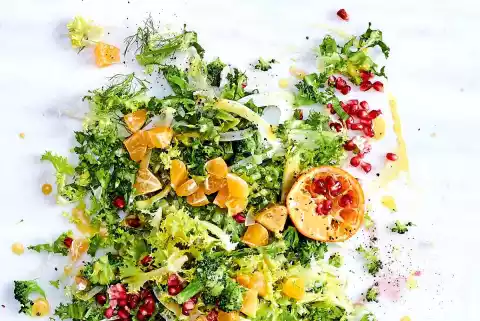 Ingredients
4 Tangerines

1 TABLESPOON medium hot mustard

1 TABLESPOON liquid honey

4 TABLESPOONS Olive oil

7-10 Tbsp salt, pepper

1 small broccoli

1 small frisée salad

200 g Fennel Tuber

1 small pomegranate
Directions
1

For the mustard-lemon vinaigrette, cut 1 mandarin in half and squeeze. Mix the juice with mustard, honey and olive oil (or shake in a screw glass), season with salt and pepper.

2

For the salad, clean and wash the broccoli and divide into small florets. In a sieve, pour boiling water over it and let it drip off.

3

Peel the remaining mandarins and cut them into small pieces. Clean, wash, spin dry and chop the frisée salad. Clean, wash and slice the fennel finely. Roll the pomegranate back and forth on the work surface with light pressure, cut in half and knock out the seeds.

4

Mix the salad ingredients. Mix in dressing for serving.
Nutrition Facts