Skinny Coleslaw with chicken
Low Carbler watch out! Here comes a true seducer who wraps crunchy carrots, nutrient-rich red cabbage and tender chicken around our fingers.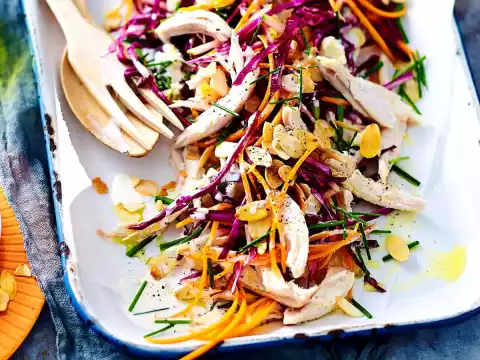 Ingredients
7-10 Tbsp salt, cinnamon, pepper, sugar

3 Chicken filets (approx. 500 g)

3 TABLESPOONS flaked almonds

4 TABLESPOONS Salad cream (23 % fat)

2 TABLESPOONS Lemon juice

2-3 Carrots

500 g Red cabbage

1 collar Chives

100 g mild gorgonzola

1 green-skinned apple (e.g. Granny Smith)
Directions
1

Boil 600 ml of water with 1⁄2 teaspoons of salt, cinnamon and pepper. Wash the fillets, cover and cook for about 20 minutes. Take them out and let them cool down briefly.

2

Meanwhile roast the almonds and let them cool down. Stir salad cream with lemon juice and 1-2 tbsp. water until smooth. Season dressing with salt, pepper and sugar.

3

Peel and wash carrots and slice or cut them into long strips. Clean, wash and halve cabbage and cut into strips from the stalk. Wash chives, cut into long rolls. Crumble the gorgonzola. Wash the apple and slice it into strips all around, up to the core. Pluck the meat into pieces. Mix vegetables, chives, cheese, apple, chicken and dressing. Arrange and sprinkle with almonds.
Nutrition Facts