Rustic shashlik pot with Kabanossi
You should definitely make a note of this party soup for the next party! The soup with meat and sausage would be talked about for a long time afterwards.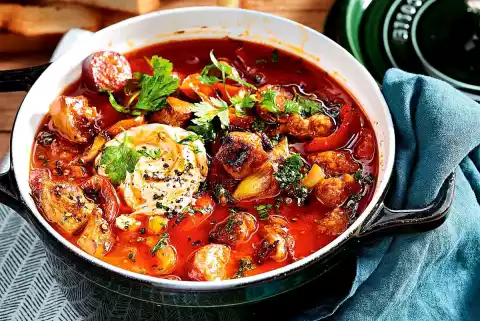 Ingredients
1.25 kg flushed pork neck

300 g Kabanossi

4 Salsicce (90 g each; Italian fennel sausages)

3 Onions

4 Garlic cloves

2 yellow and red peppers

700 g Tomatoes

2 TEASPOONS Salt

1 teaspoon, go. Pepper

2 TEASPOONS Sweet peppers

5 TSP Vegetable broth (instant)

2 bottle(s) (250 ml each) shashlik sauce

100 g Whipped cream

3 Stem/s Parsley

200 g sour cream
Directions
1

Dab meat dry and cut into cubes. Cut the kabanossi into slices. Press the salsicce as dumplings from the skin. Peel onions and garlic. Cut onions into slices and chop garlic. Clean, wash and chop the peppers. Wash tomatoes and cut them into slices.

2

Mix everything in a large roaster with salt, pepper and sweet paprika. Dissolve the stock in 1.25 l hot water. Pour shashliksauce, cream and broth into the pot and mix everything briefly. Cover and cook in a hot oven (electric cooker: 200 °C/circulating air: 180 °C/gas: see manufacturer) for approx. 2 1⁄2 hours.

3

Wash and roughly chop the parsley. Mix sour cream and parsley. Serve with bread to the shashlik pot.
Nutrition Facts