Paprika pan with cinnamon secret
In this pan, the family of the pods celebrates a great feast and invites good acquaintances such as cinnamon, harissa, tomatoes and spinach. Spicy Halloumi comes last and creates a good atmosphere again!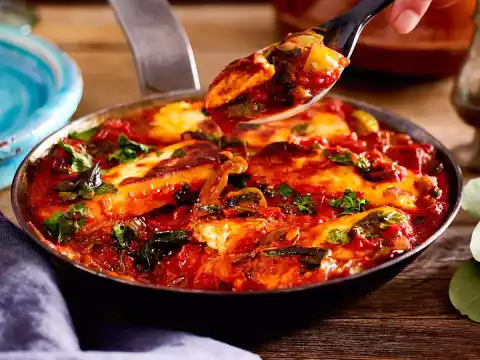 Ingredients
2 green chillies

2 green peppers

1 Onion

4 Garlic cloves

100 g young leaf spinach

2 TABLESPOONS Oil

3 TABLESPOONS Harissa (Arabic spice paste; tube)

3 TABLESPOONS Tomato paste

7-10 Tbsp ground cumin, salt

1 Cinnamon stick

2 can(s) (850 ml each) Tomatoes

2 TABLESPOONS Agave syrup

3 Stem/s Parsley

2 pck. (250 g each) Halloumi
Directions
1

Clean the chillies, cut lengthwise, remove seeds, wash and cut into fine rings. Clean, wash and roughly dice the peppers. Peel onion and cut into strips. Peel and chop garlic. Wash and drain the spinach.

2

Heat the oil in a flat roasting pan or a large ovenproof pan. Fry the harissa, tomato paste and 2 tsp. cumin for approx. 2 minutes. Add chilli rings, paprika, onion and garlic, fry for another 5 minutes. Add tomatoes and juice and mash them coarsely. Add cinnamon stick and agave syrup. Bring to the boil and simmer for about 6 minutes. Stir in spinach and simmer for about 1 minute. Season to taste with salt.

3

Preheat oven (electric cooker: 200 °C/circulating air: 180 °C/gas: see manufacturer). Wash parsley, shake dry and pluck off the leaves. Cut the halloumi cheese into 6-8 slices each. Place the cheese slices next to each other on the tomato and spinach vegetables and sprinkle with parsley. Bake in a hot oven for 15-20 minutes until the cheese is golden brown.
Nutrition Facts