Greek salad in cucumber ring
Cleverly presented, cucumber, tomato, feta and olives are a feast for the eyes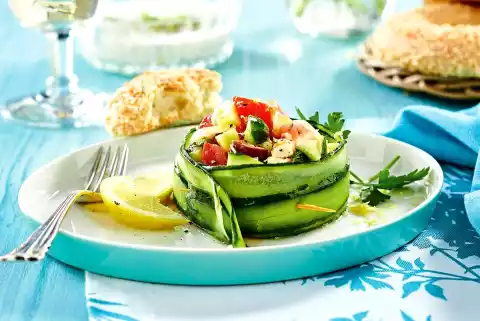 Ingredients
Directions
1

For the rings, wash and clean the cucumber. With a wide potato peeler, slice 12 strips lengthwise. Place 3 strips on top of each other and form a ring. Fix with wooden skewers.

2

For the rest of the salad, seed the cucumber and dice finely. Wash and dice the tomato. Peel and quarter the onion and cut into fine strips. Wash and finely chop the parsley. Dice feta finely. Cut olives into rings. Mix the prepared salad ingredients.

3

Mix lemon zest, lemon juice, salt, pepper and 1 pinch of sugar. Fold in the oil. Mix with salad and season to taste. Place cucumber rings on four plates. Arrange the salad in the rings. Sesame rings taste good with it.
Nutrition Facts