Mediterranean style chopped salad
The crunchy vegetables for this party side dish are cut into nice small pieces. This makes it easy to pick them up standing up and with just one hand.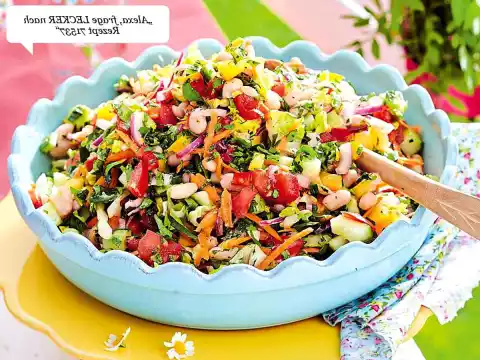 Ingredients
1 can(s) (à 850 ml) white beans (e.g. from Bonduelle)

3 Onions (e.g. red)

2 Peppers (e.g. yellow and red)

2 Carrots

1 Cucumber

5 Tomatoes

1 small iceberg lettuce

1 collar Parsley

1 collar Chives

150 ml light balsamic vinegar

5 TABLESPOONS Maple syrup

7-10 Tbsp salt, pepper

7-8 TABLESPOONS Olive oil
Directions
1

For the salad, drain beans, rinse and drain well. Peel and quarter the onions and cut into strips. Clean, wash and finely dice the peppers. Peel, wash and roughly grate carrots. Peel, wash and finely dice the cucumber. Wash and finely dice tomatoes. Clean, wash and coarsely chop lettuce and then chop finely.

2

Wash and chop the parsley and chives or cut into small rolls. Mix prepared salad ingredients and herbs in a large bowl.

3

For the vinaigrette, mix vinegar, maple syrup, salt and pepper. Embezzle oil. Pour the vinaigrette over the salad and mix well.
Nutrition Facts