Parmesan mushroom tower
Still looking for a last-minute appetizer for Easter dinner? Voilà, this one is made from very few ingredients and is made very quickly.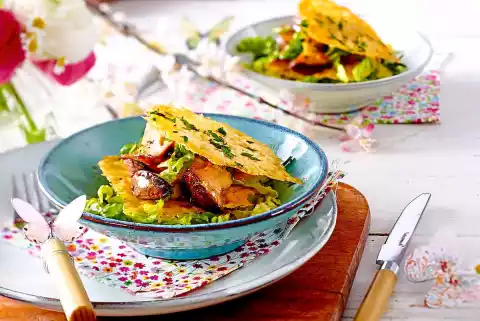 Ingredients
80 g Parmesan (piece)

1 Minirömersalat (ca. 175 g)

1 Onion

200 g small herb seitlings

3 TABLESPOONS Olive oil

7-10 Tbsp salt, pepper, sugar

75 ml light balsamic vinegar

2 stem(s) Parsley

baking paper
Directions
1

Preheat oven (electric cooker: 200 °C/circulating air: 180 °C/gas: see manufacturer). Line a baking tray with baking paper. Grate the cheese finely and sprinkle 8 circles (approx. 7 cm Ø each) on the tray, leaving some space between the circles. Bake in a hot oven for about 6 minutes. Remove the baking tray and let it cool down on a cake rack.

2

Clean, wash and drain the salad and cut into fine strips. Peel and chop the onion. Clean the mushrooms, possibly wash and halve them.

3

Heat the oil in a large frying pan. Fry the mushrooms in it while turning. Fry the onion briefly. Season with salt and pepper and sprinkle with 1 tsp. sugar. Deglaze with vinegar and boil up briefly. Remove from the heat and add about half of the salad to the mushrooms.

4

Wash parsley and shake dry, chop finely. Distribute the rest of the salad in four bowls or on plates. Place 1 parmesan cracker on each plate. Spread the mushroom and salad mix on top. Place 1 parmesan cracker on each and sprinkle with parsley.
Nutrition Facts