Lemon chop boules "Chinese firecracker"
The last firecrackers have faded away, what remains is the desire for hangover breakfast and good intentions! "More Low Carb" is your motto for the new year? Can be implemented directly.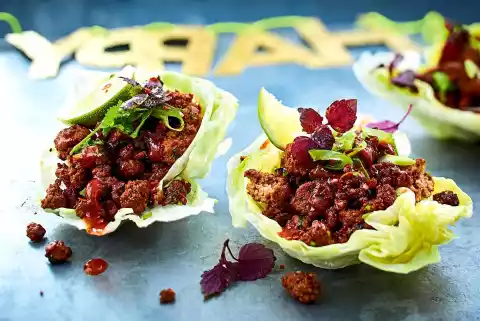 Ingredients
1 Onion

1 Garlic clove

2 TABLESPOONS Oil

500 g mixed mince

4 TABLESPOONS Lime juice

4 tablespoons + possibly some Sriracha (hot chili sauce)

2 TABLESPOONS Soy sauce

2 TABLESPOONS Agave syrup

6 Stem/s Coriander

1 Iceberg lettuce

1 Spring onion

1 bed red shiso cress

7-10 Tbsp Organic lime wedges
Directions
1

Peel and finely dice the onion and garlic. Heat the oil in a large pan. Fry the minced meat for about 5 minutes until crumbly. After about 3 minutes add onion and garlic. Mix lime juice, 4 tbsp.

2

Sriracha, soy sauce and agave syrup. Add the sauce to the minced meat and continue frying for about 1 minute. Take out and let cool down. Wash the coriander, shake dry, chop finely and mix into the mince.

3

Halve the salad, remove 16 heart leaves (as bowls for mince), wash. Clean and wash spring onion and cut into fine rings. Cut cress from the bed. Distribute the minced meat in the salad leaves. Sprinkle with spring onions and cress. Serve with lime wedges and sriracha as desired.
Nutrition Facts