Curry Beef Jerky
The dried beef strips with curry and sesame seeds are not expensive, but you need some patience.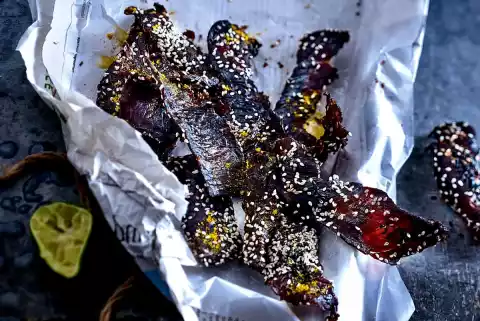 Ingredients
400 g Beef (topside; or roulade meat in one piece)

75 ml Beetroot juice

100 ml Soy sauce

7-10 Tbsp Pepper, curry

2 TABLESPOONS Sesame (black and white)

baking paper
Directions
1

Dab meat dry, freeze in freezer bag for approx. 1 hour. Mix juice and soy sauce for the marinade. Season with pepper.

2

Cut the frozen meat with the slicing machine into slices about 5 mm thick. Mix with the marinade and leave to stand for approx. 1 hour.

3

Preheat oven (electric cooker: 100 °C/hot or circulating air: 80 °C/gas: not suitable). Distribute slices of meat on the trays so that they do not touch each other. Sprinkle with approx. 1 tsp. curry and sesame seeds. Dry in a hot oven for 6-7 hours. Let the dried meat cool on the trays. Shelf life approx. 2 weeks if packed airtight and stored in a cool place. To nibble, simply sprinkle with lime juice.

4

Tip: You can also have the meat cut directly into 5 mm thick slices at the butcher's. Then freezing is of course not necessary.
Nutrition Facts