Chicken legs with honey-mustard crust
For extra flavour, cut the meat several times. Then the marinade can be absorbed even better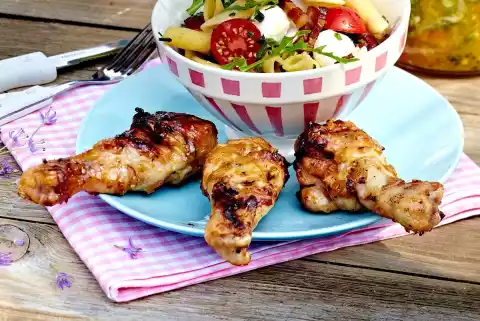 Ingredients
1 Organic Lemon

4 Garlic cloves

4 TABLESPOONS Mustard

4 TABLESPOONS Soy sauce

7-10 Tbsp Pepper

20 Chicken drumsticks (approx. 2 kg)

4 TABLESPOONS liquid honey

1 large freezer bag
Directions
1

Wash the lemon hot, grate dry and grate the peel thinly. Squeeze lemon. Peel garlic and chop finely. Mix with mustard, soy sauce, lemon zest and 2 tbsp. lemon juice (use the remaining juice for other purposes, e.g. for the chickpea cream or the feta packets). Season with pepper.

2

Wash the legs and pat dry. Cut into the meat with a knife several times crosswise about 1 cm deep. Put the legs in the freezer bag. Add marinade and knead well. Marinate for at least 1 hour.

3

Grill on the preheated grill at indirect heat covered for about 45 minutes. Turn once. About 5 minutes before the end of the grilling time, brush the legs with honey.
Nutrition Facts