One-pan patatas andaluz
Prepared in no time at all, the spirited potato pan is on the table in no time at all ¡Dios mío! - thanks to chorizo, it's nice and spicy and has a real kick to it.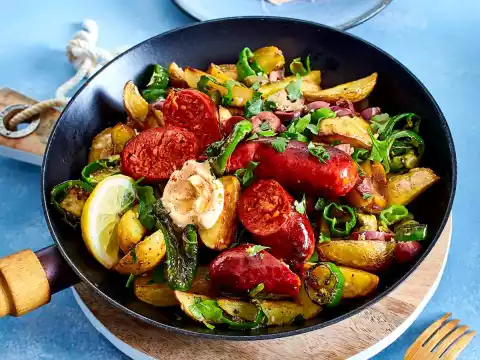 Ingredients
2 TABLESPOONS Oil

4 Chorizo bratwursts (approx. 65 g each)

500 g baby potatoes

1 Garlic clove

100 g Piementos de Padrón (fried peppers)

100 g ripened cream

7-10 Tbsp Rose paprika, cumin, salt, pepper

1 Organic Lemon

40 g black olives (without stone; e.g. Kalamata)

1 TABLESPOON Capers

4 Stem/s Parsley
Directions
1

Heat the oil in a frying pan. Fry the sausage for about 4 minutes. Wash potatoes thoroughly and cut into quarters. Remove the sausage and fry the potatoes in the frying fat for approx. 20 minutes while turning.

2

Peel and chop the garlic. Wash the pimientos and cut into rings. Mix sour cream, 1⁄2 TL paprika and 1 Msp. cumin. Season with salt. Wash lemon hot and dry, grate peel thinly, halve fruit and squeeze 1 half. Cut olives into rings. Mix capers, olives and lemon rubbing.

3

Add chorizo and pimientos to the potatoes and fry for 2-3 minutes. Season with lemon juice, salt and pepper. Wash the parsley and chop the leaves. Sprinkle the pan with olive mixture and parsley. Eat dip with it.
Nutrition Facts