Open Burrito with fried egg
Usually quite fired up, the tortillas here are baked in the oven with cheese and sour cream in a relaxed way. It's not ready until the peppers, tomatoes and chickpeas from the baking tray underneath are mixed on the plate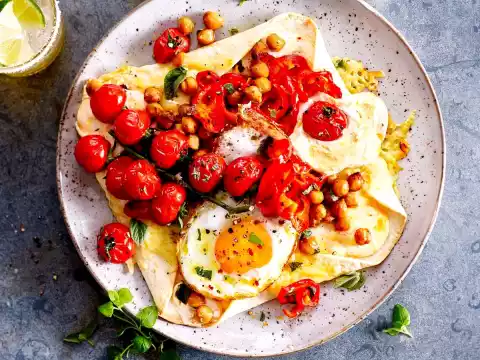 Ingredients
1 glass Chick peas (drained weight 220 g each)

4 TABLESPOONS Olive oil

7-10 Tbsp salt, rose paprika, pepper, dried oregano

300 g red pointed paprika

400 g cherry tomatoes

200 g Schmand

4 Wheat tortillas

100 g grated gouda

4 Eggs

4 Stem/s Oregano

baking paper
Directions
1

Preheat oven (electric cooker: 200 °C/circulating air: 180 °C/gas: see manufacturer). Line baking tray with baking paper. Rinse chick peas in a sieve and drain. Mix with 2 tbsp. oil, salt and 1 tsp. paprika powder. Spread on one side of the baking tray. Clean, wash and cut the peppers into rings. Wash the tomatoes. Spread the vegetables on the free side of the tray. Season with salt, pepper and 1 tsp dried oregano. Sprinkle with 1 tablespoon of oil. Bake in a hot oven for about 10 minutes.

2

In the meantime season sour cream with salt and 1⁄2 TL paprika powder. Spread each tortillas with about 1 tbsp. sour cream. Fold the sides slightly over the filling. Put them on another baking tray covered with baking paper. Sprinkle with cheese. Push the tray over the vegetables into the oven. Continue baking at the same temperature for about 10 minutes.

3

Heat 1 tablespoon of oil in a frying pan. Beat the eggs one after the other, put them into the pan and fry them until they become fried eggs. Season with salt and pepper. Wash oregano, shake dry, pluck off leaves and chop coarsely. Remove tortillas from the oven. Cover with vegetables, chick peas and fried eggs. Sprinkle with oregano. Serve the rest of the sour cream.
Nutrition Facts