Cheese waffles with dip-dip hurray!
Finger food from the waffle iron? Nothing easier than that. And the cheese waffles with refined filling are particularly delicious - it's that easy to delight your guests!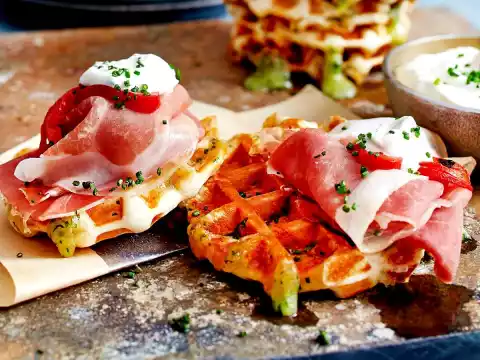 Ingredients
4 Stem/s Parsley

100 g Cheddar and Gouda (piece)

1 pck. XXL pizza dough (à 550 g; refrigerated shelf; e.g. from Aunt Fanny)

7-10 Tbsp Flour and oil

1/2 bunch Chives

250 g Schmand

7-10 Tbsp salt, pepper

16 thin slices of cottage ham

1 glass (à 370 ml) Roasted peppers
Directions
1

Wash parsley and shake dry, pluck off leaves and chop finely. Grate both cheeses coarsely, mix with parsley. Roll out the dough and cut out about 24 circles with a round cookie cutter (6 cm Ø). Knead the rest of the dough, roll out on a floured work surface and cut out about 8 more circles. Spread the cheese mixture on half of the dough circles. Cover with remaining circles.

2

Preheat a rectangular waffle iron (for Belgian waffles) and brush with oil. Bake 4 dough circles in it in portions of 3-4 minutes each to form waffles. In the meantime, lightly brush the waffle iron with oil again and again.

3

Wash the chives, shake dry and cut into fine rolls. Mix with sour cream and season with salt and pepper. Serve the cheese waffles with ham, drained peppers and dip.
Nutrition Facts