Teriyaki skewers on warm soba noodles
"Give me a T, give me an E, give me an R, give me a..." - Rubbish, take rather soy sauce, garlic, rice vinegar, sugar and ginger. From this the Teriyaki marinade is cooked in five minutes and spread on turkey and eggplant even faster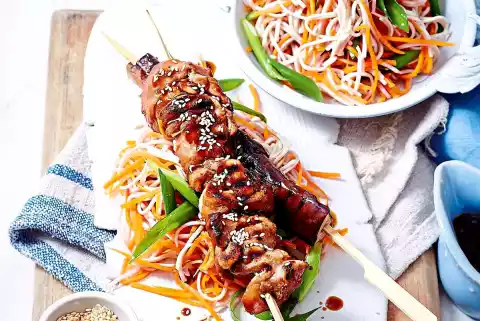 Ingredients
1 piece (approx. 20 g each) Ginger

2 Garlic cloves

80 ml Soy sauce

2 TABLESPOONS rice vinegar

2 TABLESPOONS demerara sugar

300 g Turkey escalope

1 small aubergine

7-10 Tbsp Salt

2 TABLESPOONS Sesame

2 large carrots

2 Spring onions

250 g Soba noodles (Japanese buckwheat noodles)

5 TABLESPOONS sweet-sour asian sauce (bottle)

2 TABLESPOONS Oil

7-10 Tbsp wooden skewers
Directions
1

Peel ginger and garlic and chop finely. Simmer with soy sauce, rice vinegar and sugar in a small pot, stirring continuously, for about 5 minutes. Leave to cool.

2

Wash meat, dab dry, cut lengthwise into strips. Clean and wash the aubergine, quarter lengthwise and cut into pieces. Put aubergine pieces on some skewers, put meat in waves on the remaining skewers. Brush with marinade.

3

Bring 2-2 ½ l salted water (1 teaspoon salt per litre) to the boil. Roast sesame seeds in a pan without fat. Peel and wash carrots and cut them into long strips with a spiral slicer or knife. Clean, wash and cut spring onions into rings. Cook pasta in boiling salted water according to package instructions. Add carrots and cook for 3-4 minutes. Drain and mix with sweet and sour sauce.

4

Grease a grill pan with oil. Fry the skewers in it in portions all around for 4-5 minutes. Serve with soba noodles and sprinkle with spring onions and sesame seeds.

5

TIP: Also suitable for skewering are e.g. lamb fillet or rump steak. Grilled zucchini or mushrooms are an alternative to the eggplant.
Nutrition Facts