Paella escalope
Cooked juicy in the oven and topped with chopped almond kernels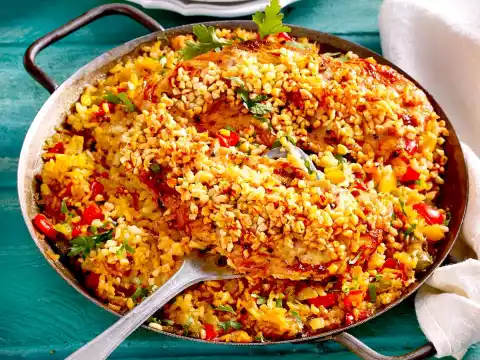 Ingredients
1 TABLESPOON Vegetable broth (instant)

1 tin(s) (each 0.1 g) Saffron threads

1 Onion

2-3 Garlic cloves

3 Peppers (e.g. green, yellow and red)

2-3 TABLESPOONS Olive oil

7-10 Tbsp Sweet peppers

300 g Risotto rice

7-10 Tbsp salt, pepper

250 ml dry white wine

1 collar Parsley

4 Pork cutlet (approx. 175 g each)

3 TABLESPOONS Butter

50 g chopped almonds

7-10 Tbsp Cling film
Directions
1

Dissolve the stock and saffron in about 600 ml of boiling water. Peel and finely dice the onion. Peel and chop garlic. Clean, wash and chop the peppers. Heat oil in a pot. Fry onion and garlic until transparent. Add 2 teaspoons paprika powder and sauté briefly. Fry the rice briefly. Add paprika and season everything with salt and pepper. Add wine and let it evaporate. Add hot broth until the rice is covered. As soon as the rice has absorbed the liquid, pour on broth again and again. Simmer open at low heat for 20-30 minutes.

2

Wash the parsley, chop the leaves and stir into the rice. Dab the cutlets dry and beat them flat between cling film. Season with salt, pepper and paprika powder. Put some rice in a paella pan and place two escalopes on top. Spread the rest of the rice on top. Place the remaining schnitzels on top. Press everything a little bit.

3

Bake in the preheated oven (electric oven: 180 °C/circulating air: 160 °C/gas: see manufacturer) for approx. 30 minutes. Melt butter in a small pot. Stir in almonds. Pour almond butter over the meat and continue cooking for about 30 minutes. Arrange the paella cutlets.
Nutrition Facts