Exotic beef curry in coconut sauce
A mild curry, which also tastes good for children thanks to the braised apple and banana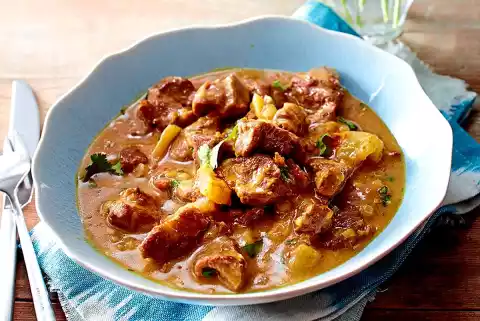 Ingredients
2 Onions

3 Garlic cloves

4 Tomatoes

2-3 Oil

700 g Beef goulash

7-10 Tbsp salt, pepper

1 TABLESPOON Curry Powder

1 can(s) (400 ml each) Coconut milk

2 TEASPOONS Vegetable broth (instant)

250 g Basmati rice

1 Apples

1 Banana

4 Stem/s Parsley
Directions
1

Peel onions and garlic. Dice onions and chop garlic finely. Wash, quarter, seed and finely dice the tomatoes.

2

Heat the oil in a frying pan. Sauté the meat in it in portions. Season with salt and pepper. Put all the meat into the roaster. Add onions and fry for approx. 2 minutes. Sprinkle with curry and sauté briefly. Add tomatoes and garlic. Deglaze with coconut milk and about 250 ml water. Bring to the boil, stir in broth and stew everything covered for about 1 hour.

3

Cook rice in boiling water according to package instructions. Peel, quarter, core and cut apple into pieces. Peel and slice banana. Add fruit to the meat and continue to braise for about 30 minutes. Add some water if the curry is too thick. Season to taste with salt and pepper. Wash the parsley, chop the leaves finely and stir into the curry. Serve everything.
Nutrition Facts