Chops on apple-onion-vegetables
Equipment based on the onion principle has proven its worth at unpredictable temperatures! This is where rapid cold protection support for our immune system comes in: from zinc-containing leeks and apples rich in vitamin C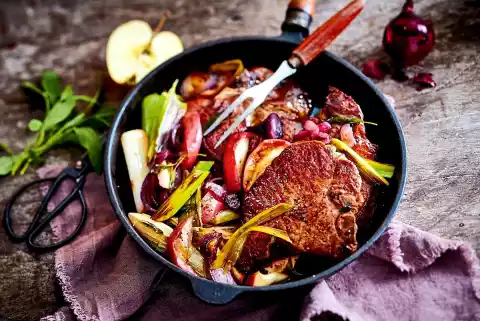 Ingredients
2 red onions

1 bar/s (each approx. 300 g) Leeks

2 Apples (e.g. Braeburn)

3 Stem/s Sage

7-10 Tbsp salt, pepper

2 TABLESPOONS liquid honey

4 TABLESPOONS Cider vinegar

5 TABLESPOONS Oil

4 Pork chops (about 200 g each)
Directions
1

Preheat oven (electric cooker: 200 °C/circulating air: 180 °C/gas: see manufacturer). Peel onions and cut into slices. Clean and wash the leek, halve lengthwise and cut into longer pieces. Wash, quarter, core and slice apples. Wash sage, shake dry, remove leaves.

2

Put everything on a tray. Season with salt and pepper. Mix honey, vinegar and 2 tablespoons of oil and drizzle over. Braise in a hot oven for 15-20 minutes.

3

Wash the meat and pat dry, season with salt and pepper. Heat 2 tablespoons of oil in a frying pan. Fry 2 chops on each side for about 3 minutes, then keep warm in the oven. Add 1 tablespoon of oil to the frying fat and fry the remaining chops in it. Arrange the chops and vegetables. Mashed potatoes taste good with them.
Nutrition Facts