Antioxidant Thai curry with chicken
Delicious curries with fresh hotness strengthen our cell defence. That's why ginger, chilli and garlic are added to the pot just like the root of the healing power: turmeric.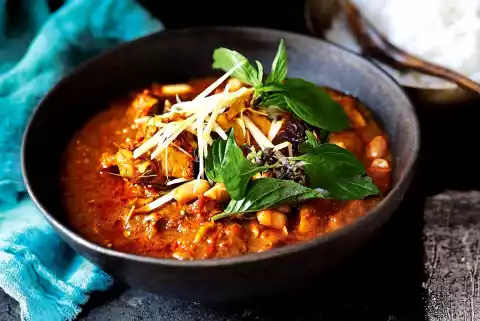 Ingredients
2 red chillies

1 piece (approx. 10 g each) Turmeric

1 piece (à ca. 5 cm) Ginger

1 Shallot

1 Garlic clove

1/2 TEASPOON Cumin seed

7-10 Tbsp Salt

700 g Chicken filet

2 TABLESPOONS Oil

1 Star Anise

1 can(s) (425 ml each) chunky tomatoes

1 TABLESPOON Lime juice

1 TABLESPOON Raw cane sugar

1-2 TABLESPOONS Fish sauce

60 g salted roasted peanuts

7-10 Tbsp Thai basil
Directions
1

For the curry paste, clean the chillies, cut lengthwise, remove seeds, wash and chop. Peel and chop turmeric and half ginger. Peel and finely dice shallot and garlic. Crush everything with cumin and some salt in a mortar to a paste.

2

Rinse chicken meat, dab dry and cut into bite-sized pieces. Peel the rest of the ginger and cut into fine strips.

3

Heat the oil in a wok or deep frying pan. Stir-fry the curry paste for 1-2 minutes. Add the chicken and star anise, stir-fry until brown. Add tomatoes and possibly 100 ml water, bring to the boil and simmer covered for about 15 minutes. Add lime juice and sugar. Season to taste with fish sauce. Add peanuts, simmer for another 5 minutes. Serve with ginger strips and Thai basil to taste. Serve with fragrant rice.
Nutrition Facts