Salmon in cabbage-pumpkin-bed from the tin
Tender fish cooked on Far Eastern refined winter vegetables. It's ready in no time and the oven does the rest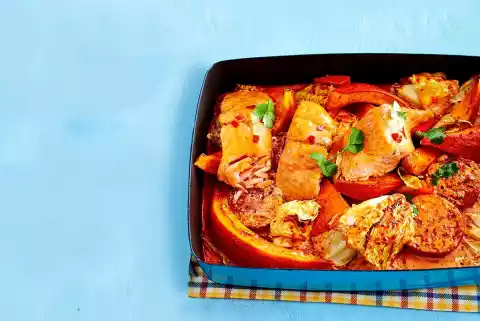 Ingredients
1 Jaroma cabbage (approx. 1 kg; alternatively pointed or white cabbage)

1 Hokkaido pumpkin (about 1 kg)

4 Tomatoes

300 g Whipped cream

2-3 TEASPOONS Sambal Oelek

3 TABLESPOONS Soy sauce

4 TSP Soy sauce

4 piece(s) Salmon fillet (without skin; approx. 125 g each)
Directions
1

Preheat oven (electric cooker: 200 °C/circulating air: 175 °C/gas: see manufacturer). Clean, wash, quarter and cut cabbage into wide strips from the stalk. Halve pumpkin, remove seeds, wash and cut into narrow slices. Halve slices crosswise. Wash and halve tomatoes. Spread the vegetables on the fat pan or in a large casserole dish.

2

Mix cream, Sambal Oelek and 3 tablespoons of soy sauce. Mix the sauce with the vegetables. Cook in a hot oven for about 30 minutes.

3

Boil the potatoes, peel them and let them cool down. Bake in the preheated oven (electric cooker: 200 °C/ convection oven: 175 °C/ gas: level 3) for 35-40 minutes. Remove from the oven, allow to cool on a cake rack and cut into pieces.
Nutrition Facts