Asian vegetable soup with shrimps
How about an Asian soup today and lots of fresh vegetables? In just 15 minutes, the soup will be on the table. But be careful not to overcook the vegetable noodles!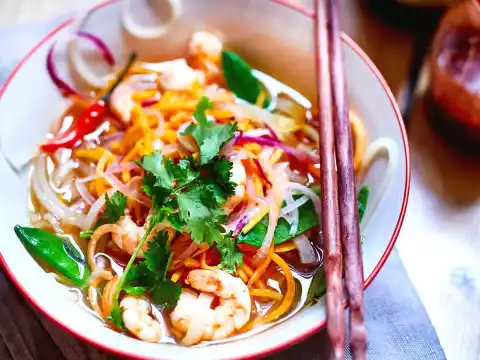 Ingredients
250 g frozen shrimps

1 Sweet potato (about 450 g each)

1 Kohlrabi

1 red onion

1 piece (approx. 20 g each) Ginger

1/2 Chinese garlic

1 TABLESPOON Sesame Oil

1 red chilli pepper

1 rod/s Lemongrass

4 Stem/s Coriander

3-4 Tbsp light soy sauce

125 g Sweet peas

1 Lime
Directions
1

Let the shrimps thaw. Peel sweet potato, kohlrabi and onion. Clamp each in the spiral slicer and twist into noodles.

2

Peel the ginger and garlic and cut both into slices. Heat the oil in a pot. Lightly fry the ginger and garlic. Deglaze with approx. 3⁄4 l hot water. Wash the chilli, wash and clean the lemon grass and cut the bottom thick end several times lengthwise. Wash the coriander, shake dry and pluck off the leaves. Add the coriander stalks, chilli and lemon grass to the stock and bring to the boil.

3

Add the vegetable noodles and some soy sauce to the stock. Simmer for about 1 minute. In the meantime wash the sugar snap peas and let them drain. Rinse and drain the defrosted prawns. Add to the soup with mangetouts. Simmer for about 2 minutes. Season to taste with lime juice and soy sauce. Sprinkle with coriander leaves.
Nutrition Facts