Mussel soup "Immunboost"
Cold and other annoying side effects of the cold season can be effectively tackled with this soup. In addition to turmeric, garlic also attracts attention, and delicious mussels provide helpful protein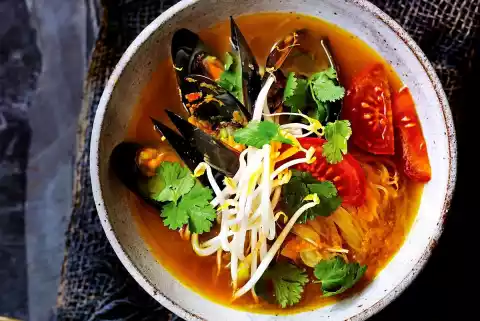 Ingredients
3 Shallots

1 Garlic clove

2 Carrots

1 rod/s Lemongrass

4 small tomatoes

100 g Mung bean seedlings

1 collar Coriander

250 g Glass noodles

1 kg Mussels

2 TABLESPOONS Olive oil

1-2 TEASPOONS ground turmeric

7-10 Tbsp Salt

250 ml dry white wine or vegetable broth
Directions
1

Peel shallots, garlic and carrots. Dice everything finely. Remove the dry tip and outer leaves from the lemon grass. Chop the lemongrass finely. Wash the tomatoes and cut them into slices. Pour boiling water over the sprouts in a sieve and drain. Wash the coriander, shake dry and remove the leaves.

2

Pour boiling water over glass noodles in a bowl. Let the noodles stand for about 5 minutes, stirring frequently. Thoroughly clean and wash the mussels, sorting out any that are already open. Drain the glass noodles.

3

Heat the oil in a large pot. Sauté shallots, garlic, carrots, lemongrass and turmeric in it. Add mussels and deglaze with wine and 3⁄4 l water. Bring to the boil covered and cook over a low heat for 3-5 minutes until the mussels have opened (remove unopened mussels). Cut glass noodles into smaller pieces with kitchen scissors. Add the tomatoes to the mussel soup and heat. Season soup with salt. Serve sprinkled with sprouts and coriander.
Nutrition Facts