20-minute corn soup
Exotic lightning soup with spicy-sweet topping in the form of coconut chips and coriander. Canned corn provides bite, chili brings a lot of fire. Quick soup happiness in 20 minutes!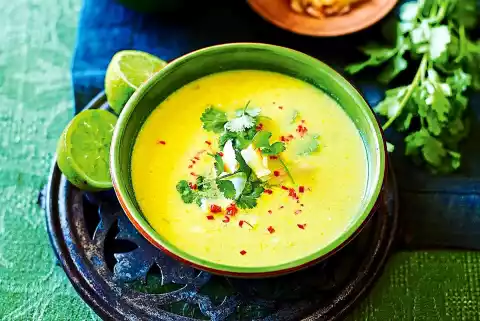 Ingredients
1 Onion

2 Garlic cloves

1 piece (approx. 15 g each) Ginger

1 red chilli pepper

2 TABLESPOONS Coconut chips

2 TABLESPOONS Oil

7-10 Tbsp turmeric, salt, pepper

2 can(s) (425 ml each) Corn

1 can(s) (400 ml each) unsweetened coconut milk

2 TEASPOONS Vegetable broth (instant)

5 Stem/s Coriander

1/2 Lime
Directions
1

Peel and chop onion, garlic and ginger. Cut the chilli lengthwise, remove seeds, wash and chop. Roast the coconut chips in a large pot without fat, remove. Heat the oil in the pot. Fry the prepared ingredients in it. 1⁄2 Briefly fry a teaspoon of turmeric. Drain the corn. Add corn, 600 ml water, coconut milk and broth, bring to the boil and simmer for about 5 minutes.

2

Wash coriander, shake dry, pluck off leaves. Puree the soup, season to taste with salt, pepper and lime juice. Sprinkle with coconut chips and coriander.
Nutrition Facts