Lentil soup "Bollywood"
When you listen to Bollywood, do you think of fiery dances and great love? That's exactly what you'll feel when you taste this spicy soup from the oven!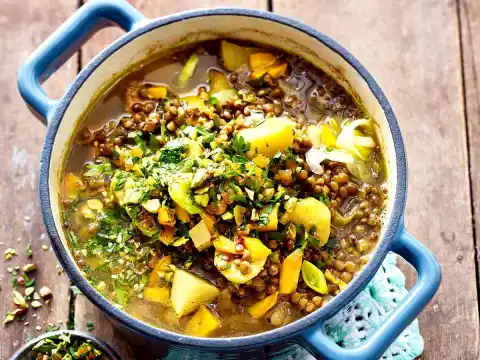 Ingredients
250 g Cardinal lenses

1 Onion

1 collar Soup Greens

1 kg Potatoes

3 TABLESPOONS Oil

2 TABLESPOONS Curry Powder

7-10 Tbsp salt, pepper

7-10 Tbsp Sugar

6 Tl Vegetable broth (instant)

50 g roasted pistachios (in shell)

5 Stem/s Parsley

50 g dried soft apricots
Directions
1

Rinse and drain the lenses. Peel and chop the onion. Clean or peel, wash and chop the soup vegetables and potatoes.

2

Heat the oil in a large, ovenproof pot. Sauté the onion until transparent. Add greens, potatoes and lentils and fry briefly. Sprinkle with curry and sauté. Season with salt, pepper and 1 pinch of sugar. Pour in about 1.5 l water, stir in broth. Cover and cook in a preheated oven (electric cooker: 180 °C/circulating air: 160 °C/gas: see manufacturer) for 1-1 1⁄4 hours.

3

Peel the pistachios for the topping. Wash the parsley and chop both roughly. Finely dice the apricots. Mix everything.

4

Season soup with salt, pepper and 1 pinch of sugar. Serve with pistachio topping.
Nutrition Facts