Pray \"cheek red\"
Red beets are bursting with colour and sweetness - a fine, sharp accent of cress and horseradish does a lot of good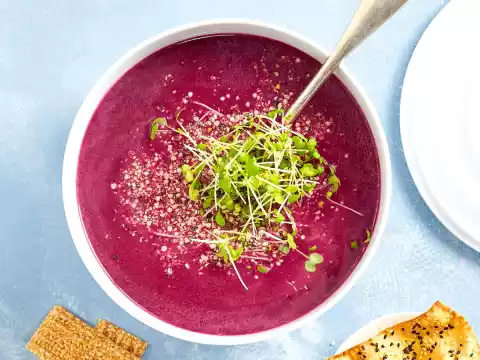 Ingredients
1 Onion

1 collar Soup vegetables

500 g Red prayers

2 TABLESPOONS Olive oil

250 ml apple juice

750 ml Vegetable broth

2 TEASPOONS Horseradish (glass)

100 ml vegan cooking cream (e.g. "Soya Cuisine")

7-10 Tbsp salt, pepper

1 TABLESPOON Hemp seeds

1 small bed cress
Directions
1

Peel or clean, wash and chop the onion and soup vegetables. Clean, peel and chop the beetroot (be careful, wear disposable gloves, they stain strongly!). Heat oil in a pot. Sauté the prepared ingredients for about 5 minutes. Pour on juice and stock. Cover and simmer for about 20 minutes until soft.

2

Stir the horseradish into the vegetable soup and blend everything finely with a hand blender, adding the cooking cream and possibly some more stock to the desired consistency. Season soup with salt and pepper. Press the hemp seeds in a mortar, cut the cress from the bed. Sprinkle both on the soup.
Nutrition Facts