Tofucurry "in a hurry"
Mondays are also allowed to be full of feeling: A curry with broccoli, tender pods and tasty carrots is just the right soul food to start the week relaxed.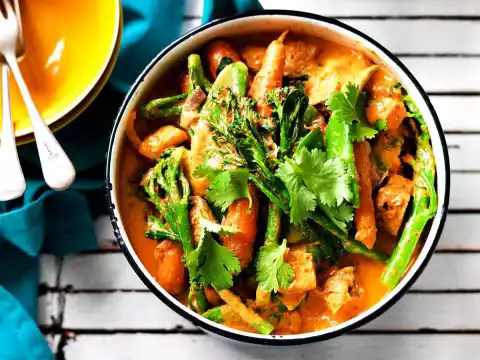 Ingredients
500 g small carrots

300 g Broccolini (or broccoli)

1 Shallot

200 g Tofu

2 TABLESPOONS Oil

50 g red curry paste

1 can(s) (400 ml each) Coconut milk

150 g Frozen sugar snap peas

1 collar Coriander

7-10 Tbsp Salt
Directions
1

Peel and wash the carrots and, depending on size, cut them lengthwise into halves or quarters. Clean and wash the broccolini. Peel shallot and cut into thin strips. Dice the tofu.

2

Fry the tofu in hot oil, remove. Sauté the shallot and carrots in the frying fat. Sweat curry paste briefly with. Deglaze with coconut milk and 200 ml water, bring to the boil. Simmer for 8-10 minutes.

3

Add broccolini and frozen sugar snap peas and cook for 3-4 minutes. Add the tofu again and warm up briefly. Wash the coriander, shake dry and remove the leaves. Season curry with salt and sprinkle with coriander. Serve with basmati rice.
Nutrition Facts