Refreshing salad panorama
The trick for the particularly aromatic dressing is as simple as it is brilliant! Sweet grapes, strong mountain cheese and walnuts are also added to the bowl.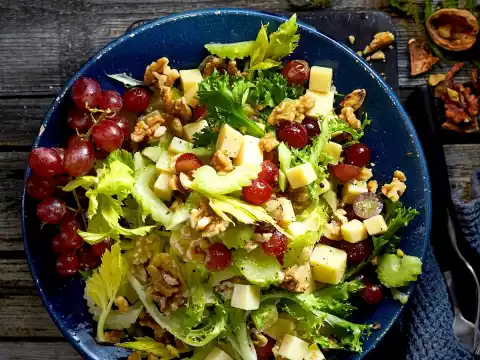 Ingredients
1/2 perennial Celery

7-10 Tbsp salt, sugar, pepper

2 TABLESPOONS Cider vinegar

1 Small head Frisée salad

300 g small blue grapes

300 g Mountain cheese (piece) (e.g. Comté)

1 TABLESPOON medium hot mustard

2 TABLESPOONS Olive oil

75 g Walnut kernels
Directions
1

Clean and wash the celery. Put some celery green aside. Cut the celery into thin slices. Mix with salt, 1 pinch of sugar and vinegar in a bowl. Clean and wash the frisée, shake dry and pluck into bite-sized pieces. Wash, drain and pluck the grapes. Cut cheese into small cubes.

2

Place the celery slices in a sieve and collect the liquid that has formed. Mix celery liquid, mustard and oil. Season to taste with salt and pepper. Mix the celery, frisée, grapes and cheese with the vinaigrette. Arrange the salad on a plate. Coarsely chop the walnuts. Sprinkle walnuts and celery greens on the salad.
Nutrition Facts