Pink Drink
Whether it's a summer party or girls' evening, a glass of pink drink always goes down well. Make a note of it.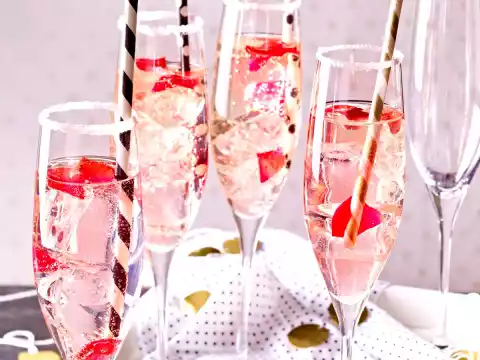 Ingredients
1 daisy rose blossom

2 TABLESPOONS Lemon juice

1 TABLESPOON Sugar

150 ml French aperitif with wine and fruit liqueurs on citrus basis with cinchona bark

800 ml Rose lemonade (soft drink with lemon juice and rose oil)

7-10 Tbsp Ice cube

8 Straws for serving
Directions
1

Carefully pluck the rose petals from the flower, wash and drain well. Put lemon juice and sugar separately on a flat plate. Dip the upper edges of the glass first in lemon juice, then in sugar.

2

Spread the Apéritif evenly into the glasses. Place rose petals and 2 ice cubes in each glass. Add lemonade and serve with straws.