Asian fried noodles with minced meat
Make way for the Asia Express: While the mince is frying and the noodles are cooking, we quickly chop the vegetables. For the delicious finale, all the ingredients go into the wok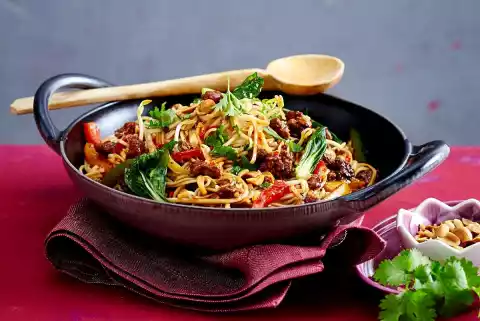 Ingredients
300 g Mienudeln (Asian wheat noodles; alternatively spaghetti)

7-10 Tbsp Salt

1 TABLESPOON Oil

500 g mixed mince

1 Onion

1 Garlic clove

1 Ginger (approx. 4 cm)

3 Peppers (e.g. yellow and red)

1-2 red chillies

200 g Baby-Pak-Choi

100 g Mung bean seedlings

1 collar Coriander or parsley

4 TABLESPOONS Soy sauce

3 TABLESPOONS sweet-and-hot Asian sauce

5 TABLESPOONS roasted peanut kernels
Directions
1

Cook the pasta in boiling salted water according to the instructions on the packet. Heat oil in a wok or large frying pan. Fry the minced meat for about 10 minutes until crumbly.

2

Meanwhile peel and finely dice the onion, garlic and ginger. Clean, wash and cut the peppers into strips. Cut the chilli lengthwise, remove seeds, wash and chop. Wash, clean and quarter the pak choi lengthwise. Wash and drain the sprouts. Wash and chop the coriander. Drain the noodles and let them drain.

3

Add the onion, garlic, ginger and chilli to the mince and fry for about 3 minutes. Add paprika, pak choi and noodles and fry for another 3 minutes. Deglaze everything with soy and asia sauce. Chop the peanuts roughly. Fold in with sprouts and coriander.
Nutrition Facts