Sandmanns crisp mince with green beans
We appreciate this delicious communion not only because of its soothing side effect!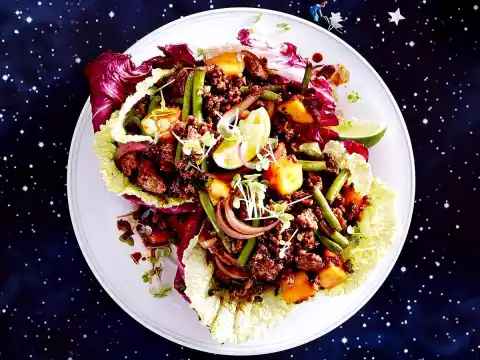 Ingredients
200 g Lettuce (e.g. radicchio and Chinese cabbage)

1 Organic Lime

2 red onions

2 Garlic cloves

450 g Papaya

200 g Frozen French beans

7-10 Tbsp Salt

2 TABLESPOONS Oil

400 g Beef mince

4 TABLESPOONS Soy sauce

2-4 Tbsp Sriracha (hot chili sauce)

1 bed Cress
Directions
1

Wash the salad and shake dry. Wash lime hot, dry and cut into slices. Peel and slice the onions. Peel and chop garlic. Cut papaya in half, remove seeds, peel and dice.

2

Cook the beans in boiling salted water for about 4 minutes. Heat the oil in a large pan, fry the minced meat in it until crumbly. Add onions and garlic and fry for another 2 minutes. Season with soy sauce and Sriracha. Fold in drained beans, lime wedges and papaya cubes. Warm up briefly.

3

Cut cress from the bed. Spread the lettuce leaves on plates and fill them with the mince pan. Sprinkle with cress.
Nutrition Facts