Gintastic punch with fresh mint & cucumber
Your friends are just too thirsty to mix them each gin and tonic separately? Thanks to a help-yourself station like in mum's party cellar nobody is sitting on the dry land anymore, but everybody can fill his own long drink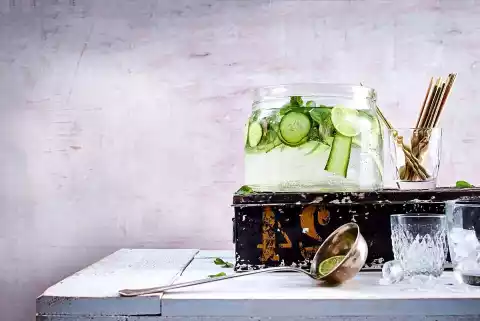 Ingredients
1 Cucumber

1/2 bunch fresh mint

1 Organic Lime

1 Organic Orange

1 bottle (à 700 ml) Gin (e.g. Hendrick's)

2 bottle(s) (1 liter each) Tonic water

7-10 Tbsp Crushed ice or ice cubes

1 large bowl (approx. 4 l capacity)
Directions
1

Wash and clean the cucumber and cut it in half crosswise. Cut 1 half lengthwise into long, wafer-thin slices with a peeler. Cut the other half into round slices with a knife. Wash the mint, shake dry and roughly pluck the leaves.

2

Rinse lime and orange hot. Cut lime into slices. Use a knife to cut the orange peel very thinly into strips from the orange.

3

Pour gin into the bowl. Add cucumber, mint, lime and orange peel and let it stand for about 5 minutes. Then remove orange peel. Fill up punch with tonic. Prepare glasses filled with crushed ice or ice cubes and serve the punch immediately. Let the evening begin!