Creamy onion soup with apple and bacon
Nobody likes the fact that only 25 minutes were invested here! A shot of cider brings out the best in this hearty onion soup with apple and bacon.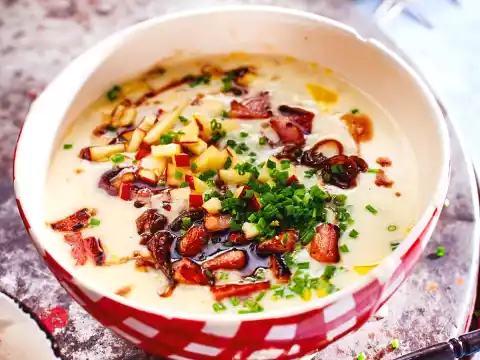 Ingredients
1 chunky vegetable onion

2 TABLESPOONS Butter

1 TABLESPOON Flour

200 g Whipped cream

250 ml Cider

1 TEASPOON Vegetable broth (instant)

7-10 Tbsp salt, pepper

150 g streaky smoked bacon

2 TABLESPOONS Sugar

4 TABLESPOONS Balsamic vinegar

1/2 bunch Chives

1 Apples (e.g. Elstar)
Directions
1

Peel the onion. Dice approx. 3⁄4, cut the rest into strips. Heat butter. Sauté onion cubes briefly in it. Dust with flour, sweat briefly and deglaze with 1⁄2 l water, cream and cider. Bring to the boil, simmer for about 10 minutes. Stir in stock and season with salt and pepper.

2

In the meantime, cut the bacon into cubes and leave them crisp in a pan without fat. Take out and fry the onion rings in the bacon fat for about 5 minutes. Sprinkle with sugar and caramelise briefly. Deglaze with vinegar.

3

Wash the chives, shake dry and cut into small rolls. Wash the apple and dice the pulp. Puree soup and serve with apple, bacon, onions and chives.
Nutrition Facts