Spanish potato soup in the style of the discoverers
Spanish sailors brought the potato to Europe in the 16th century. We celebrate this with this soup, which we find that even today it goes very well with Spanish sausage and cheese.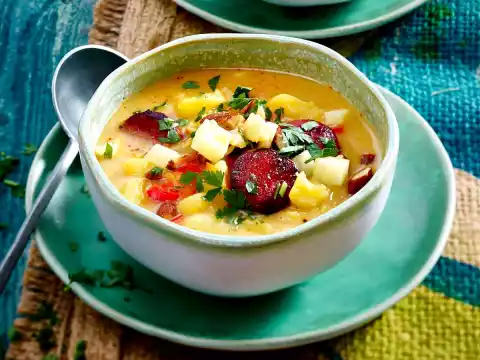 Ingredients
1 Onion

1 Garlic clove

1 kg floury potatoes

150 g Chorizo

1 TABLESPOON Oil

5 TABLESPOONS dry sherry

2-3 TEASPOONS Vegetable broth (instant)

7-10 Tbsp salt and pepper

1 red pepper

150 g Manchego (Spanish hard cheese)

4 Stem/s Parsley

2 TABLESPOONS Almond kernels (e.g. smoked almonds)

100 g Whipped cream
Directions
1

Peel and finely dice the onion and garlic. Peel, wash and chop the potatoes. Remove chorizo from the skin and cut into slices. Heat the oil in a pot. Brown the sausage in it and take it out. Sauté onion and garlic in hot frying fat. Fry the potatoes briefly. Deglaze with sherry, let it almost evaporate. Add 1 l water, bring to the boil and stir in the stock. Season with salt and pepper. Simmer covered soup for about 20 minutes.

2

Clean and wash the peppers. Chop the paprika and cheese. Wash and chop parsley. Chop almonds coarsely.

3

Coarsely mash the potatoes. Refine with cream. Season and serve the soup. Sprinkle with chorizo, paprika, cheese, parsley and almonds.
Nutrition Facts