Coconut date bites
We like sweets! And today without a guilty conscience. Packed with superfoods, this snack provides a lot of good energy and is made very easy.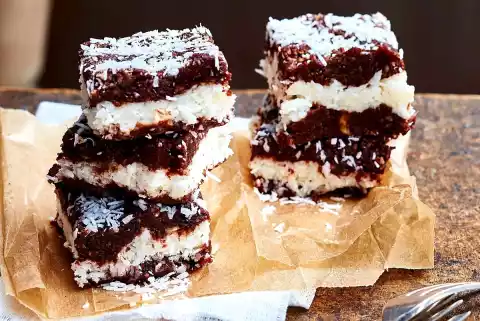 Ingredients
600 g dried soft dates (without stone)

7-10 Tbsp Oil

400 g Walnut kernels

30 g Baking cocoa

130 ml Coconut oil

250 g Coconut flake

2 TABLESPOONS Coconut flake

100 ml Soy cream

2 TABLESPOONS Agave syrup
Directions
1

Soak dates in cold water for about 20 minutes. Spread oil on a square springform pan (24 x 24 cm). Grind nuts finely in the universal chopper. Mix in cocoa. Drain dates, dab dry. Gradually add to the nuts, chop to a smooth mass. Press half of it into the mould to form a flat base.

2

Heat coconut oil in a hot water bath until it is liquid. Mix with 250 g coconut flakes, soy cream and thick juice. Spread on the date mixture. Chill for about 30 minutes.

3

Spread the rest of the date mixture over it and press it down. Sprinkle with 2 tablespoons of grated coconut and press on the grater. Chill for at least 1 hour. Remove the edge of the mould and cut everything into pieces.
Nutrition Facts