Fruity duet in yellow-pink
The vitamin bomb made from berries and fruits tastes heavenly and immediately gives fresh impetus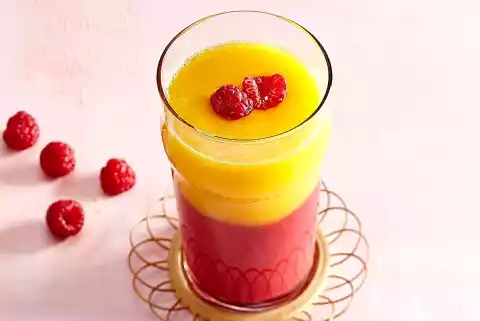 Ingredients
1 ripe banana

200 g Raspberries

200 g fresh pineapple

1/2 Mango
Directions
1

For the red smoothie, peel and chop the banana. Select the raspberries and wash them carefully. Puree finely with banana and 100 ml water. Divide into two glasses.

2

For the yellow smoothie, peel the pineapple and cut out the stalk, chop the flesh into small pieces. Peel the mango, cut the flesh off the stone. Puree both finely with 100 ml water in a blender.

3

Then carefully pour the yellow smoothie over the back of a spoon onto the red smoothie.
Nutrition Facts