Chicken croissants
Similar to the finger food racer "Wurstchen im Schlafrock" there is a delicious meat filling in the French croissants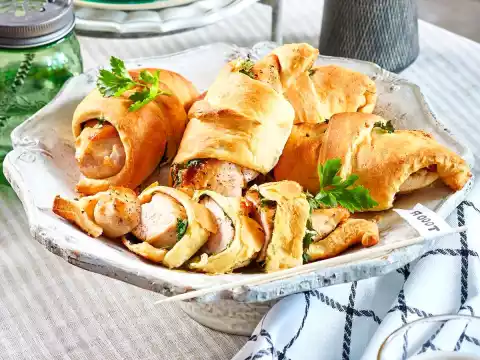 Ingredients
6 Chicken filets (à approx. 175 g)

2-3 TABLESPOONS Oil

7-10 Tbsp salt and pepper

1 collar Parsley

2 tin(s) (6 pieces each, 250 g) Croissants (cooling shelf)

baking paper
Directions
1

Rinse fillets, dab dry and cut in half lengthwise. Heat the oil in a pan. Fry the fillets for about 5 minutes on each side. Season with salt and pepper. Take them out and let them cool down.

2

Wash the parsley and pluck the leaves from the stems. Roll out the dough according to the instructions on the packet and separate the dough triangles.

3

Cover dough triangles with parsley. Place fillets on top and roll up tightly. Place on a baking tray lined with baking parchment. Bake in a preheated oven (electric cooker: 200 °C/circulating air: 175 °C/gas: see manufacturer) for approx. 12 minutes.
Nutrition Facts