Brioche goal wall
Culinary greetings from the "Sportstudio". One sausage above, one below - ready is the airy goal wall bread for the World Cup party!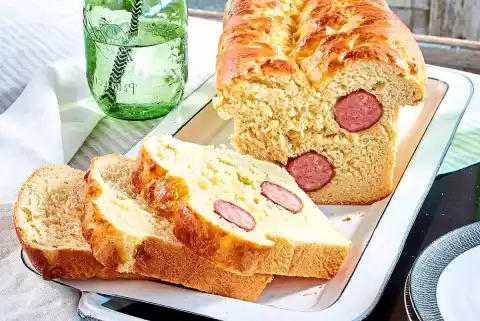 Ingredients
Directions
1

Stir yeast with sugar until liquid. Melt butter and add 250 ml milk. Remove the pot from the stove. Put flour, 1 pinch of salt and 2 eggs in a bowl. Add the yeast milk and knead everything with the dough hooks of the mixer for at least 5 minutes. Cover and leave to rise in a warm place for about 1 hour until the dough has doubled. Grease a box form (30 cm long, approx. 2.5 l capacity).

2

Knead the dough briefly and divide into three. Lay out the bottom of the mould with 1⁄3. Place 2 cooked sausages on top of it one after the other. Cover with 1⁄3 dough and put 2 sausages on top. Add the rest of the dough and press down lightly. Cover and leave to rise in a warm place for about 15 minutes.

3

Cut the top of the brioche lengthwise with a knife. Whisk the egg yolks with 1 tbsp. milk. Spread the dough with it. Bake in the preheated oven (electric cooker: 175 °C/circulating air: 150 °C/gas: see manufacturer) for 30-35 minutes. Let the brioche rest briefly in the pan, then turn it over and let it cool down.
Nutrition Facts