Burnt chili pecans
Instead of almonds, only pecans are to be found in our Christmas miracle bags this winter ... sweet, salty, hot and crunchy - in short: irresistible!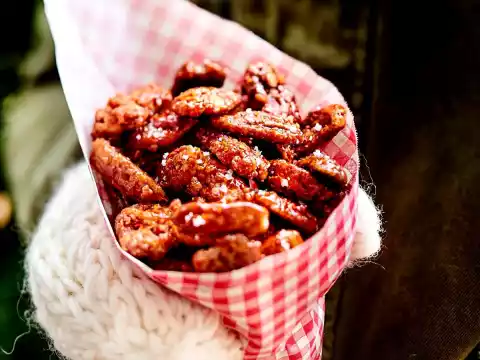 Ingredients
300 g Sugar

1/2 TEASPOON Cinnamon

1 package/s Vanilla sugar

300 g Pecans

1/2 TEASPOON Chili Flakes

1/2 TEASPOON fleur de sel

baking paper
Directions
1

Bring 300 ml water, sugar, cinnamon and vanilla sugar to the boil in a coated pan. Add nuts and cook over high heat, stirring constantly, until the water evaporates and the sugar is dry again.

2

Turn down to medium temperature and stir until the sugar is slightly caramelised. When the nuts are coated with the sugar, spread on baking paper. Immediately pull apart with two forks. Let it cool down. Mix the nuts with chilli and salt. Store in a cool, dry and airtight place.
Nutrition Facts