Antipasti vegetable salad
The mix of caramelized roasted vegetables and spices can be left to stand overnight - it is best to prepare the salad the night before the party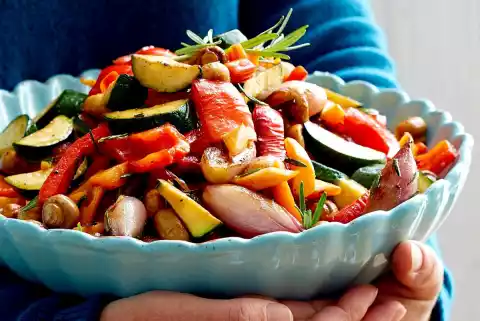 Ingredients
Directions
1

Clean the mushrooms, wash and possibly halve them. Clean, wash and chop the peppers. Wash, clean, halve and slice the zucchini. Peel and wash the carrots, cut them lengthwise into halves and cut them into slices. Peel shallots and garlic. Chop garlic coarsely. Wash rosemary, pluck needles and chop finely.

2

Heat the oil in portions in a large frying pan. Fry the vegetables for 8-10 minutes one after the other. Season each with salt, pepper, some rosemary and a little garlic. Sprinkle each with 1 teaspoon of sugar, caramelise briefly and deglaze each with 3-4 tbsp vinegar.

3

Mix all the vegetables and leave to stand for at least 1 hour. Season to taste with salt and pepper.
Nutrition Facts