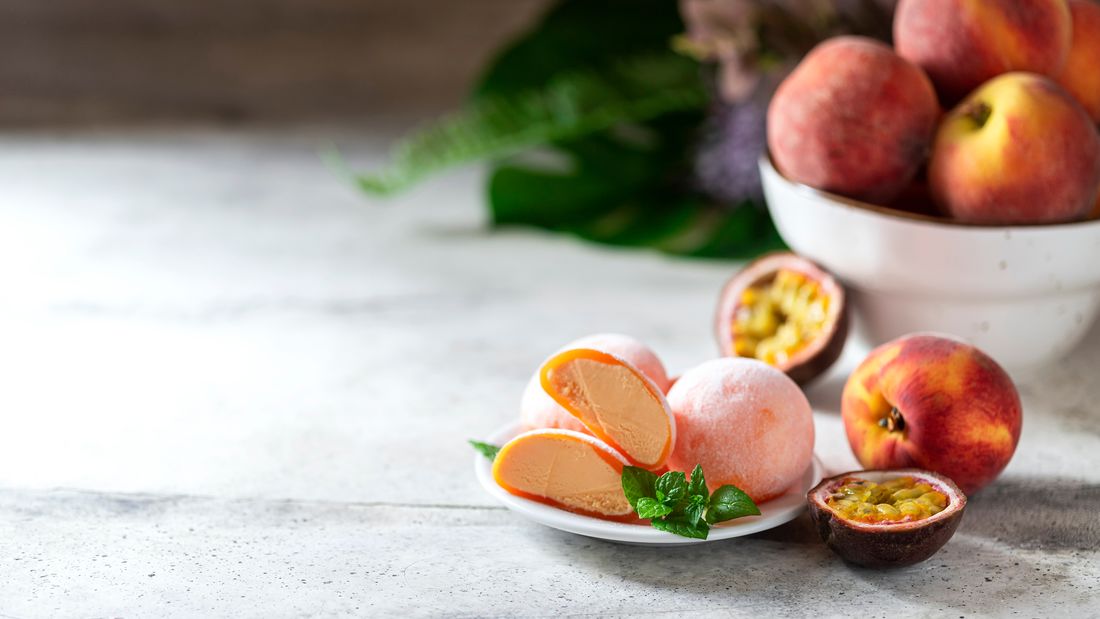 You love to eat ice cream and always want to try something new? Then this Japanese dessert is just the thing!
It's hot, you sweat and you wish for nothing more than a delicious, refreshing ice cream. But you want something different than the usual chocolate-vanilla stuff? Then we have something interesting for you: Mochi ice cream, a classic Japanese dessert. And it can taste more than just delicious: it's colourful, soft, refreshing, lactose-free, low-calorie and often even vegan! But what is behind this exotic sounding ice cream anyway?
What is mochi ice cream?
What many Berliners and raclette eaters in Germany think of as New Year's Eve, the Japanese think of mochis, which are traditionally eaten on New Year's Day. This is a small dessert rice cake with a very special structure.
On the outside there is a sticky dough, and inside you bite on a sweet paste of adzuki beans and sugar. Adzuki beans are Asian pulses, which are rich in protein and fibre. Now there are exactly these dessert cakes as a delicious cooling off.
What is mochi ice cream made of?
As I said, mochi ice cream consists of different proportions. The outside is made of gluten ice cream, also known as Shiratamako, which remains pleasantly soft and does not become hard even when frozen. Inside the dough, instead of the typical adzuki bean paste, there is ice cream of different flavours such as strawberry, mango, pistachio and even green tea.
For those who like it a little more special, sorts like black sesame could be perfect. The special thing about Mochi ice cream is that it is traditionally produced on the basis of coconut milk. It is gluten and lactose-free, and depending on the variety also vegan!
How do I eat Mochi ice cream?
Unlike regular popsicles or ice cream, mochi ice cream is snacked in one piece because of its small size. If you like it a bit creamier, you can take the ice cream out of the freezer 10 minutes before eating it, let it melt and then enjoy it soft.
What are the nutritional values of mochi ice cream?
The nutritional values vary from recipe to recipe and depend on whether you make the mochis yourself or buy them ready to eat. Advantage: Thanks to the rice flour, this colourful refreshment will definitely fill you up quickly and you won't feel the need for endless amounts compared to normal ice cream.
How do I make Mochi ice cream myself?
At this point the motto "do it yourself" is a double benefit. To make sure what's in your portion of mochi ice cream, just do it yourself. And you'll certainly create a surprise moment at the next garden party and shine with a new eye-catcher. Normal vanilla and chocolate ice cream can now be packed!
Here is the basic recipe for mochi ice cream:
Ingredients for the dough:
150 grams of sticky rice flour (Shiramatako)
180 millilitres of water
55 grams of sugar
Cornstarch
Preparation:
Mix the sticky rice flour with the sugar in a small bowl and gradually add some water. Stir the dough until there are no more lumps.
Now you can heat the dough in the microwave at about 700 watts for 2 minutes. Stir the dough a little and heat it again for 1 minute. Repeat the process until the dough has become a sticky, shiny mass. Let it cool down for a short moment.
Meanwhile, line an oven tray with baking paper and sprinkle it with starch (so that the dough does not stick to the paper).
Now you can roll out the dough thinly on the baking paper and put it in the freezer for two hours. You can let off steam with the ice cream filling. Cut your favourite fruits into small pieces, experiment with sesame or matcha or make a fruit sorbet.
Where can I buy mochi ice cream?
You can buy mochi ice cream in many larger Asian food stores. Depending on the range of products you can find exotic varieties such as Matcha and black sesame. But also single supermarket chains like Kaufland, Metro or Rewe carry different mochi ice cream products. Be aware of the hidden ingredients and be warned against hefty prices. Usually, 180 grams, which corresponds to approximately 6 pieces, cost about 5 euros.
Attention: The ice cream from the supermarket is usually modified in the recipe - the basis is no longer coconut milk, but rather normal ice cream in a dough coat. Also delicious, but not the typical traditional Mochi ice cream (and usually not lactose and gluten free).
The traditional Japanese dessert does not only look beautiful because of the many bright colours, it also tastes refreshingly different. Try it out! Or you can try the recipe and make it yourself.