Juicy grain bread
The loaves of bread with sunflower seeds, linseeds and sesame seeds are "freely pushed", which means baked without a mould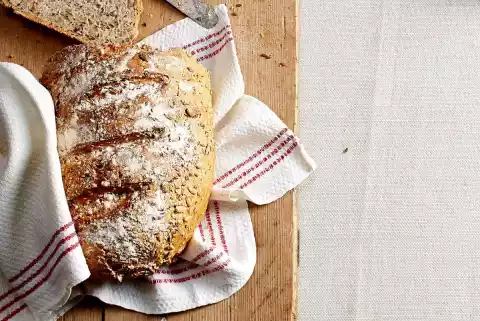 Ingredients
Directions
1

Crumble yeast, dissolve in 3⁄4 l lukewarm water. In a large bowl with all the flour, 3 1⁄2 TL salt and sugar knead to a smooth dough. Finally knead in the grains and seeds. Cover the dough and let it rise in a warm place for about 1 hour until it has doubled in volume.

2

Line a baking tray (approx. 35 x 40 cm) with baking paper. Cut the dough in half and knead briefly on a little flour. Form portions into a round and/or oblong loaf. Place on a baking tray, cut into the dough, cover and leave to rise for another 20 minutes.

3

Brush loafs with water and dust with flour. Bake in the preheated oven (electric cooker: 225 °C/circulating air: 200 °C/gas: see manufacturer) for approx. 10 minutes. Switch the temperature down to 200 °C (circulating air: 175 °C/gas: see manufacturer). Bake the bread for another 35-40 minutes. Let them cool down.
Nutrition Facts