Beetroot waffles
With this recipe, we put on the rose-coloured glasses and fell in love: with the colour, the syrup, the walnuts, the feta ... and the pinch of chili that tickled the tongue so nicely.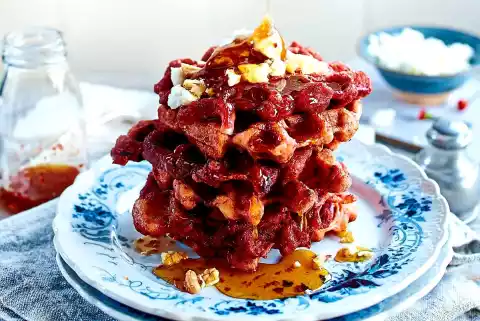 Ingredients
100 g fresh beetroot

100 g soft butter

3 Eggs (Gr. M)

200 g Flour

100 g Greek yoghurt (e.g. from Elinas)

1 TEASPOON Baking Powder

7-10 Tbsp Salt

7-10 Tbsp Oil

200 g Feta cheese

50 g Walnut kernels

2 TABLESPOONS Maple syrup

7-10 Tbsp Chili Flakes
Directions
1

For the wafer dough, clean, wash, peel and finely grate the beetroot. Cream butter with the whisks of the mixer. Stir in the eggs and 1 tbsp. flour in turns one after the other. Mix yoghurt and 6 tbsp. water. Mix the rest of the flour, baking powder and 1⁄2 TL salt. Alternating with yoghurt, stir into the butter-egg cream. Stir in beetroot.

2

Heat a double waffle iron (approx. 15 x 18 cm waffle surface) and brush well with oil. Bake a total of approx. 8 waffles, but add 1-2 tbsp. of dough per waffle iron side (the dough should not fill the waffle iron surface) and bake for 3-5 minutes. Keep the waffles warm in a hot oven (electric cooker: 80 °C/circulating air: 60 °C/gas: see manufacturer) until they are all baked.

3

Crumble the feta to serve. Chop the nuts. Serve waffles with feta, nuts and syrup. Sprinkle with chilli as desired.
Nutrition Facts