Vanilla quark dish with honeydew melon skewer
Anything sweet for dessert? Then we recommend this Blitz quark dish with delicious fruit skewer.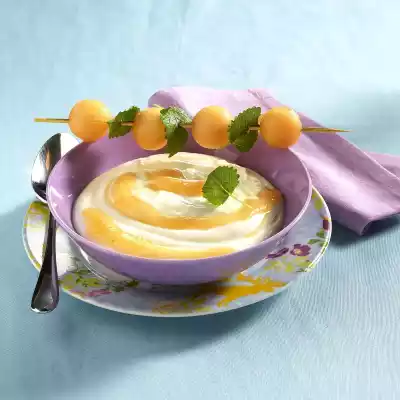 Ingredients
100 g Low-fat curd

1 TABLESPOON low-fat yoghurt

1 TEASPOON Honey

7-10 Tbsp Vanilla Aroma

4 Melissa leaves

1 (approx. 100 g) Cantaloup melon column

7-10 Tbsp Wood skewer
Directions
1

Mix quark, yoghurt and honey. Season with vanilla flavouring. Wash the lemon balm and shake dry. Cut out 4 melon balls. Remove the remaining flesh from the skin and puree finely.

2

Put melon balls alternating with lemon balm leaves on a wooden skewer. Fill the quark into a bowl, spread melon puree on top and decorate with lemon balm. Place the melon skewer on the rim.
Nutrition Facts