Steamed creamed pointed cabbage
With tender pointed cabbage in a fine sauce with horseradish no meat is missing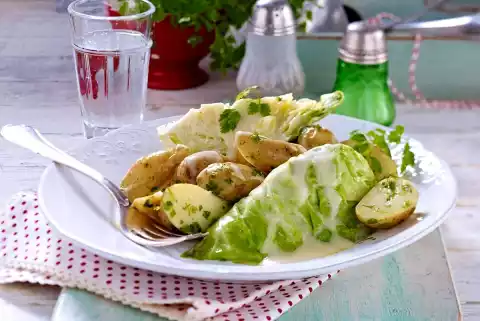 Ingredients
800 g new potatoes

1 Pointed cabbage (approx. 800 g each)

1 Onions

2 TABLESPOONS Butter

200 g Whipped cream

2 TEASPOONS Vegetable broth (instant)

1 collar Chervil

1 tsp, heaped Cornstarch

2 TEASPOONS Cream horseradish (glass)

7-10 Tbsp salt, pepper
Directions
1

Wash the potatoes thoroughly and cook in water for about 20 minutes. Clean the pointed cabbage, wash, cut into eighths and cut out the stalk. Peel and finely chop the onion.

2

Heat butter in a large pan with lid. Sauté the onion until transparent. Add 200 ml water and cream, bring to the boil. Stir in stock. Put the pointed cabbage in the stock, cover and stew for about 20 minutes.

3

Wash and chop the chervil. Take out cabbage. Stir the starch and a little water until smooth, stir into the cream stock, bring to the boil and simmer for about 3 minutes. Season the sauce with horseradish, salt and pepper. Stir in chervil. Drain the potatoes. Arrange everything.
Nutrition Facts