Simply incorrigible kibble bread
While bananas and almonds are hiding, the cherries shine like red rubies and entice light-fingered people out of their reserves - grab a piece quickly before it's too late!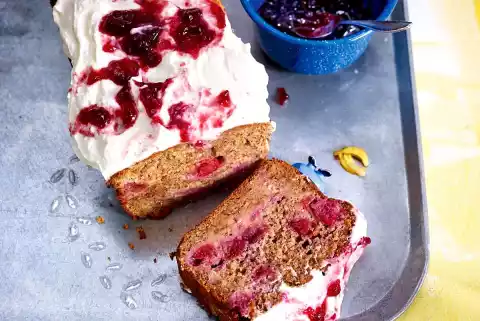 Ingredients
100 ml Sunflower oil

200 g Flour

1 glass (à 370 ml) Cherries

1 TEASPOON Baking soda

200 g ground almonds (with skin)

7-10 Tbsp Salt

3 ripe bananas (about 200 g each)

100 g Buttermilk

2 Eggs (Gr. M)

100 g Raw cane sugar

1 TABLESPOON Raw cane sugar

1 TABLESPOON Cornstarch

1 pck. Cream stabiliser

250 g Curd (20 % fat)

2-3 TABLESPOONS cherry jam
Directions
1

Preheat oven (electric cooker: 180 °C/circulating air: 160 °C/gas: see manufacturer). Oil a box mould (25 cm long; approx. 1.7 l capacity) and dust with flour. Drain the cherries. Mix 200 g flour, baking soda, almonds and 1 pinch of salt. Peel the bananas and finely mush them with a fork. Mix with buttermilk, 100 ml oil, eggs and 100 g sugar. Stir in the flour mixture briefly. Mix cherries and starch and fold into the dough.

2

Fill the dough into the mould and smooth it down. Bake in a hot oven for 50-60 minutes. Take out, let rest in the form for about 10 minutes and then turn out. Let it cool down on a cake rack.

3

Mix the cream firmer and 1 tablespoon of sugar. Mix with quark. Spread the cream on the bread. Stir jam until smooth and spread on the cream.
Nutrition Facts