Sea buckthorn curd cream with chocolate leaves
Primeval sea buckthorn in creamy mascarpone melts between tenderly melting chocolate with candied orange-peel ingredient on the tongue ...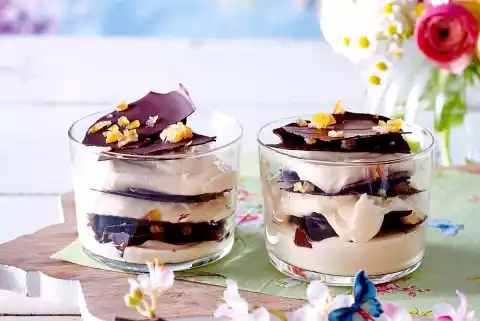 Ingredients
100 g Dark chocolate

2 TABLESPOONS Candied orange peel

50 g Whipped cream

75 g Mascarpone

250 g Low-fat curd

1,5 TABLESPOONS unsweetened sea buckthorn whole fruit preparation (health food store)

3 TABLESPOONS Sugar

1 package/s Vanilla sugar

baking paper
Directions
1

Roughly chop the chocolate and melt in a hot water bath. Finely chop the candied orange peel. Line a baking tray with baking paper. Pour chocolate on it and spread thinly. Sprinkle with chopped candied orange peel and leave to dry.

2

Whip the cream until stiff. Mix mascarpone with quark, sea buckthorn, sugar and vanilla sugar. Fold in cream.

3

Break the dried chocolate into large pieces. Layer the cream and chocolate leaves alternately in four small dessert glasses or bowls.
Nutrition Facts