Minipavlovas with oven rhubarb
While Australians and New Zealanders argue about who invented the dessert, we rather enjoy the tender meringue cakes. By the way, the idea with the icing and rhubarb syrup is from us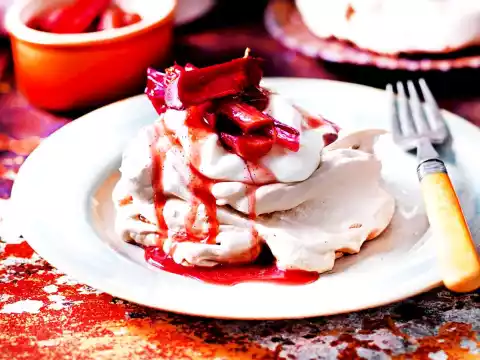 Ingredients
Directions
1

Preheat oven (electric cooker: 180 °C/circulating air: 160 °C/gas: see manufacturer). Wash and clean the rhubarb and cut it into pieces of approx. 4 cm length. Orange hot wash, dry, grate the rind thinly. Cut the fruit in half and squeeze. Mix prepared ingredients, maple syrup and vanilla sugar and spread in a large casserole dish. Bake in a hot oven for about 20 minutes (the rhubarb should be soft but still retain its shape).

2

Turn down the oven temperature (electric cooker: 150 °C/circulating air: 130 °C/gas: see manufacturer). Line a baking tray with baking paper. Whisk the egg white with the whisk of the mixer until stiff, then slowly add the sugar and continue beating until the sugar is dissolved. Spread the meringue in 4 heaps on the baking tray. Use the back of a spoon to press depressions into the meringue. Bake in a hot oven for about 1 hour, remove and allow to cool.

3

Whip the cream until semi-stiff. Spread the cream and rhubarb together with syrup into the cavities of the pavlovas and serve immediately.

4

In the supermarket rhubarb is often available as a 500-g package. Then I prepare double the amount of oven rhubarb. That just lengthens the baking time a little. Delicious with a dash of cream quark on the brioche or just for nibbling.
Nutrition Facts