Hearty Brussels sprouts and potatoes roast
We have spiced up the classic from our skiing holiday with crunchy winter vegetables - and stay under 250 kcal! The perfect meal for all those who like to enjoy a hearty but light meal.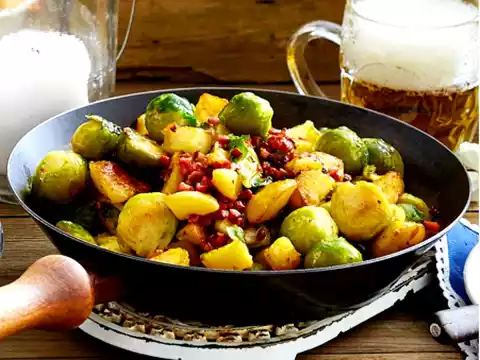 Ingredients
Directions
1

Wash the potatoes thoroughly and boil for about 20 minutes. Drain, quench briefly and allow to cool slightly.

2

Clean and wash the Brussels sprouts and halve them according to size. Cook in boiling salted water for about 12 minutes. Drain the sprouts and let them drain well. Finely dice the bacon.

3

Peel and dice the potatoes. Fry bacon in a pan without fat until crispy, remove. Heat the oil in the pan. Fry the potatoes in it until golden brown. Add Brussels sprouts and fry briefly. Season to taste with salt, pepper and nutmeg. Fold in bacon.
Nutrition Facts